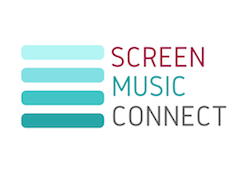 SCREEN MUSIC CONNECT TO EXPLORE THE MUSIC OF FILM, TELEVISION AND INTERACTIVE MEDIA
Tickets on sale for new London-based music conference at Southbank Centre'sPurcell Room on September 24; BASCA's Vick Bain to keynote inaugural event.
LONDON, United Kingdom (June 5, 2018) – Screen Music Connect, a new London-based symposium series exploring the music of film, television, video games and virtual reality, today announced its inaugural event will be held on September 24 at the newly-furbished Purcell Room within the Southbank Centre in London. Tickets are available at https://screenmusicconnect.com.
Created by James Hannigan, award-winning composer and Game Music Connect co-founder, Screen Music Connectbuilds on the success of the sold-out game music conferences to celebrate the richly diverse world of music for film, television and interactive media.
"I'm tremendously excited to announce this new event series, which is designed to spotlight and engage the creativetalent working in all forms of screen music as well as appealing to those fascinated by today's cutting-edge soundtracks, the aesthetics and history of screen music and its cultural significance." James Hannigan – Founder and Creative Director of Screen Music Connect.
Screen Music Connect will open with a keynote from Vick Bain (BASCA), and the day's programming will comprise interviews, case studies and roundtable discussions with a leading line-up of media composers and multi-industry practitioners on a variety of subjects including soundtracks and classical music, creative collaboration in film and television, Artificial Intelligence-generated music and cutting-edge video game composition. Full details of the day's sessions and other distinguished guest speakers will be announced soon.
Screen Music Connect's target audience is drawn from the music production communities of all media industries – from pro, semi-pro and amateur composers though to producers, engineers, music supervisors and audio directors – plus fans of soundtracks and anyone with an interest in the evolution of screen music.
To buy tickets or register your interest in Screen Music Connect, please visit www.screenmusicconnect.com.